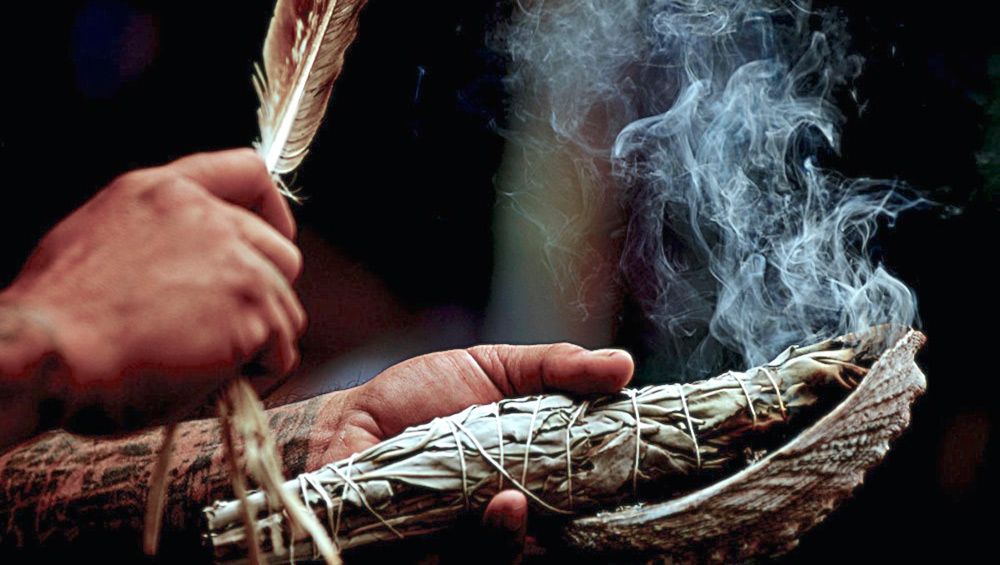 By Dr. Terry Leblanc – March 2018
Smudging, also known by many people simply as "praying with smoke", is a spiritual tradition that is common to many First Nations people in Canada and the USA. While historically, Inuit and Metis did not smudge, it is becoming increasingly common in contexts where First Nations, Metis and Inuit people are collectively gathered.
Smudging involves the burning of one or more plants known as "medicines" that are gathered from the earth. The four medicines typically used in First Nations' ceremonies are tobacco, sage, cedar and sweetgrass, although the most common medicines used in a smudge are sweetgrass, sage and cedar. Each of these medicines is considered sacred for the reason that, while humanity frequently and wilfully breaks the covenant of harmony resident in creation, causing disarray and harm, the rest of creation serves its creator without "sin." Only humans break the harmony of the created order and relationships.
Smudging has been passed down from generation to generation. While the exact form of the tradition varies from group to group and, there are many variations on exactly how a smudge is done. In some traditions, all people who wish to do so participate in the smudge in a circle. In other practices, one person, an elder or teacher, leads in the smudge with prayers for all and only she or he will smudge; others participate vicariously.
In either case, the usual pattern is to "gather" the smoke of the medicine over oneself in various ways: the area around us; our heads to clear the mind; our eyes to see truth and the good in others; our ears so that we will be able to hear and discern; our mouths so that we will speak well and truthfully; above, before, behind and below so that when we walk into this life we are immersed in prayer for the guidance of our Creator.
Smudging allows people to stop, slow down, become mindful and centred. This allows people to remember, connect and be grounded in the event, task or purpose at hand. Smudging also allows people to let go of something negative. Letting go of things that inhibit a person from being balanced and focused comes from the feeling of being calm and safe while smudging. The forms of smudging will vary from nation to nation but are considered by all to be a way of expressing and experiencing the cleansing of oneself. Smudging, for many, is part of "the way things are done" and is part of living a good life.
The following are one elder's thoughts about what the purpose of the smudge is:
We smudge to clear the air around us.
We smudge to clean our minds so that we will have good thoughts of others.
We smudge our eyes so that we will only see the good in others.
We smudge our ears so that we will only listen to positive things about others.
We smudge our mouths so that we will only speak well of others.
We smudge our whole being so we will portray only the good part of our self through our actions.
Some First Nations people believe that the smoke, in itself, serves as actual prayer or, serves to provide real cleansing and purification. For others, including many of those who are followers of Jesus, however, the smoke is strictly symbolic. It represents our prayers rising before the Creator of all things much as the smoke of the Old Testament sacrifice rose into the nostrils of God as a pleasant aroma – though without the same ceremonial outcome. Instead, the smudge here symbolically signifies the means by which cleansing and purification take place – the work of the Creator in the renewing of all things through Jesus.
For Indigenous people who have faith that the person, work, life teaching, death and resurrection of Jesus, provide the once-for-all ceremony of cleansing and purification, the actions are strictly symbolic. Though not with the same overarching impact or meaning, this might be understood in much the same way as many people view the communion: symbolic or dynamically symbolic. Smudging is always voluntary. People should never be forced or pressured to smudge. It is completely acceptable for a person to indicate that he/she does not want to smudge and that person may choose to stay in the room and refrain or leave the room during a smudge. Respect for all is the guiding principle in any authentic Indigenous tradition.